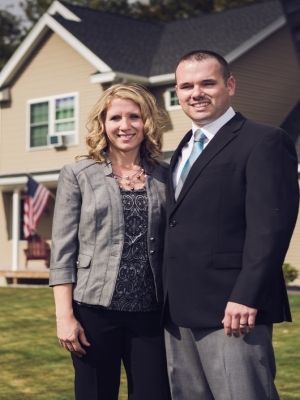 The Matt and Gena Team | Associate Broker Falmouth
Falmouth
75 Clearwater Drive Suite 204
Falmouth ME 04105
Email Phone: (207) 781-3400 Fax: (207) 805-0950
Falmouth, Maine is located just north of Portland on the coast of Maine. It has a population of approximately 11,000 people, and covers approximately 32 square miles from the coastline to rural areas further inland.
Attractions in Falmouth include the local harbor and town landing, indoor and outdoor ice skating facilities, shopping, many parks and recreational facilities, 3 golf courses, and a medical center.
The Falmouth office is located close to I-95 and I 295 and provides plenty of parking for clients.
About Matt and Gena
The Matt and Gena team are a young and dynamic husband/wife duo, serving clients in the Androscoggin, Cumberland, and York counties. Doing what is best for their clients is what drives their business each and every day. As successful professionals in the real estate market, Matt and Gena find that working as a team ensures that all their clients' needs are fulfilled. "Like all people, we have individual strengths, but as a team we are able to provide a comprehensive approach that embodies the many elements of real estate," says Gena. Ethics, honesty, integrity, and attention to detail are vital elements to any business relationship, and Matt and Gena will strive to do their absolute best for every client.
Matt's Cell: 207-749-0433 Gena's Cell: 207-939-1810
Whether you are a first time home-buyer, investor, or looking to relocate, Matt and Gena have the knowledge and skills to make your dreams a reality, while getting you the best deal possible. Their professional education, coupled with their own experiences in home and investment property ownership, new construction and more, have provided them with a strong foundation to walk buyers and sellers through every transaction.
Matt and Gena are both life-long residents of Maine, and very active in their community. They currently reside in Falmouth with their two young children and German Short Hair pointer, Riley.
Matt and Gena's Testimonials
Very impressed with Matt and Gena's professionalism and knowledge. After putting the restrictions that we wanted to stay in the same school district they went to work and found us listing after listing, some days before they hit the market. When we finally found our dream home which happened to be in the middle of a short sale, Matt and Gena went to work and jumped through all the extra hoops that it entails. You hear a lot of long drawn out short sales but not this one. We were signed and moved [...]
Nolan B.